Extreme Humiliation and Facial Pain at The Pain Files
Blonde slavegirl Cherry is tied on a table for punishment and degradation. The busty british submissive has derogatory words written on her forehead, her lips clamped with pegs and mousetraps and her nose painfully pulled by a nosehook. Cute Cherry struggles through the pain and humiliation of her punishment.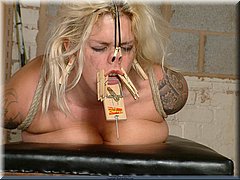 To see the full length movie: Visit The Pain Files
The nose hook pulls her face backwards as Cherry lets the tears stream down her face from the pain of the facial clamps, the strict bondage and the humiliation of her restrained and degraded position. Cherry loves the struggle, the pain and the humiliation of being entirely exposed and at the mercy of her vicious tormenter.
To watch all of slavegirl Cherrys nosehooked humiliation and pain:
Visit The Pain Files
Real Slavegirls, Real Pain, Real Tears
Visit The Pain Files
Tags: degradation, facial pain, Humiliation, nose hook, nosehook, pain