Attached: Needle Pain
A tale of torment from The Pain Files
British Lifestyle Slavegirl Ginas tits and nipples in severe needle pain. Needles are used to nail her tits to a board and any movement involves incredible suffering.
Tearful bdsm slavegirl in needle pain and breast whipping torments. To further increase her punishment, Ginas breasts are whipped with a biting riding crop right around the needles. She dissolves into subspace and lets the tears run loose down her face.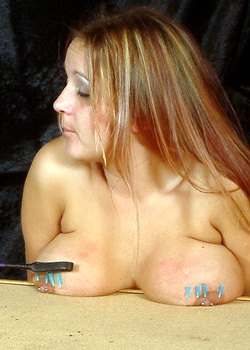 Watch the exclusive full length video of Slavegirl Gina in needle pain in high resolution at The Pain Files